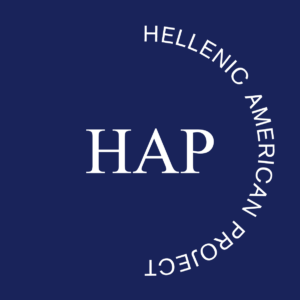 AnthroPhos (ΑνθρωΦώs), the production-branch of the Hellenic American Project (HAP), is a newly-founded Hellenic cultural production company based in New York. AnthroPhos' mission is to preserve and promote Hellenism and Hellenic Heritage by presenting culturally-significant artworks to captivate and cultivate audiences worldwide.
AnthroPhos will produce feature films, TV series, documentaries, theatrical performances, and art exhibitions of exceptional quality and global appeal by Hellenic, Hellenic-American and philhellene creators. Our projects will focus on Hellenic and Hellenic-American related topics – featuring Hellenic historical events or personalities of Hellenic descent who have left their mark on History or global culture ("Global Greeks") –, as well as on visionary, high-concept audiovisual ideas for the domestic and international markets.
AnthroPhos is co-founded by AHEPA members, professor Nicholas Alexiou, Founder & Director of HAP, Department of Sociology, Queens College, CUNY, and director/producer Zafeiris Haitidis, with 30+ years in the Media & Entertainment industry (www.ZafeirisHaitidis.com).
AnthroPhos Projects in Development
• "CORPUS SCIENCE: Mr. and Mrs. Papanicolaou" by Katerina Papadakis – Theatre performance
Ten years after Dr. Pap's death, his wife Andromachi gives a TV interview narrating, through her POV, their life journey and their monumental work.
• 50 years since the invasion of Cyprus – Documentary
Documentary in commemoration of the 50 years since the Turkish invasion, the illegal occupation, and the partition of Cyprus. (Including Benjamin S. Rosenthal Archive papers.)
• "LIBRƎ" by Zafeiris Haitidis – Feature film (survival drama / psychological thriller)
As Poland's fate hangs in the balance during the final months of WWII, a German-Jew doctor and a Waffen-SS soldier stranded in an abandoned farmhouse in the brutal winter must struggle with their post-war demons and mutual hatred to survive.
• Voice Of America Greek Service – Documentary
Voice Of America, the largest and oldest U.S.-funded international broadcaster in the U.S., and the impressive 72-year history of the VOA Greek Service.
• "Anything Goes, Temples to Food", co-produced with Prometheus Project Foundation – Documentary
The birth of the Diner and the role of the Hellenic American immigrants in its evolution into one of the staples of American culture.
• "Elli Rizou: Daughter of the enemy" – Documentary
The turbulent life story of singer Elli Rizou, and the prosecution by the Albanian government of her heroic father and her family from Northern Epirus.
• "Greeks in Hollywood in the Silent Movie era" by Fondas Ladis (based on his book, co-published by HAP) – Documentary
The unknown details of the life and work of dozens of Greek expatriates in the 1910s and 1920s, a very turbulent era in the American movie industry.
• Hellenic American Project (based on HAP Archive), by Nicholas Alexiou – Documentary series
Multiple stories, weaved into one narrative, of the Hellenic American presence in the United States from the first wave of mass immigration in 1900, to the present.
• Biography of John "Blackjack" Jerome, by Fondas Ladis (based on his book) – TV series
On the dark side of the Hellenic-American immigrant experience, the infamous exploits of mobster Yiannis Petrolekas, aka John "Blackjack" Jerome, rattled 1920's San Francisco.
• Biography of Dr. Papanicolaou (Dr. Pap), by Katerina Papadakis (based on her stage play) – Limited TV series
The adventurous life of the Greek physician, inventor of the "Pap smear", unfolds in episodic form, from Greece, to global recognition for his scientific successes.
• Biography of composer Mikis Theodorakis, by Asteris Kutulas – Documentary series and Footage Archive
In commemoration of the 100 years since Mikis Theodarakis' birthday, and based on 600+ hours of never-before-seen footage filmed by Theodorakis' producer and manager Asteris Kutulas.
• "Maria Callas – Alone" by Katerina Papadakis – Theatre performance
Maria and – her alter ego – iconic soprano Callas, portrayed by separate performers, share the stage in song and retrospection of Maria Callas' most notable songs and life-moments.
• "Electra 21" by Asteris Kutulas – Liquid Staging Installation
Four films, played simultaneously on four different screens around the audience, show dance scenes, rehearsals, and fantasies based on Mikis Theodorakis' Electra opera.
• "The 13th Basement" by Vangelis Bekas – Feature film (science fiction neo-noir)
In the not-too-distant future, two lovers fight against all odds to escape from and expose the unimaginable global conspiracy perpetrated on all peoples by a multinational corporation.
• "ICARUS: Immortal" by Zafeiris Haitidis – Feature film (epic fantasy adventure)
In this epic "neo-mythology", the known myth of Icarus is retold through the amazing after-life adventure that followed in the aftermath of his tragic death and magical rebirth.
Executive Producers: Zafeiris Haitidis and Nicholas Alexiou